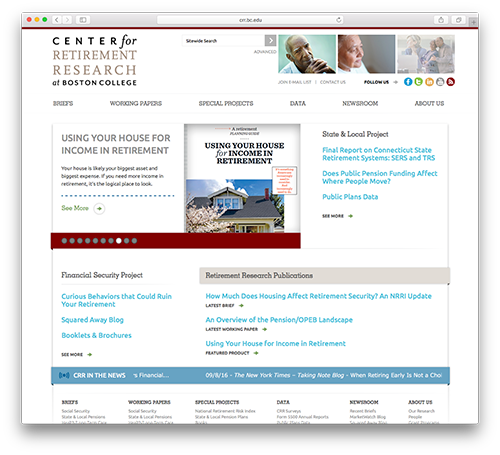 Center for Retirement Research
Recognized by the New York Times as "…the nation's leading center on retirement studies," our research covers any issue affecting individuals' income in retirement. Our main areas are:
Social Security

State and local pensions

Health/long-term care

Financing retirement

Older workers
The Center's work goes beyond economics. We study the behavioral factors that drive individuals' decisions so we can craft solutions that work in practice, not just in theory.
---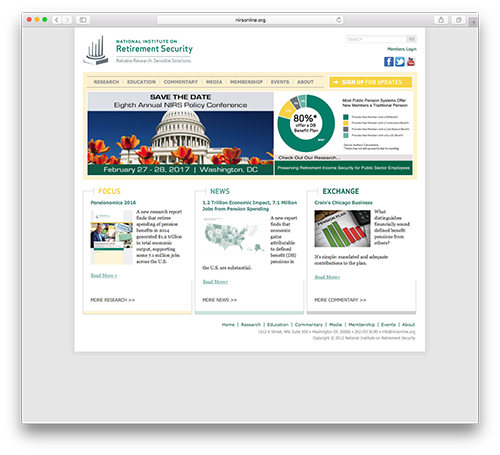 The National Institute on Retirement Security
The National Institute on Retirement Security is a non-profit research and education organization established to contribute to informed policymaking by fostering a deep understanding of the value of retirement security to employees, employers, and the economy as a whole.
---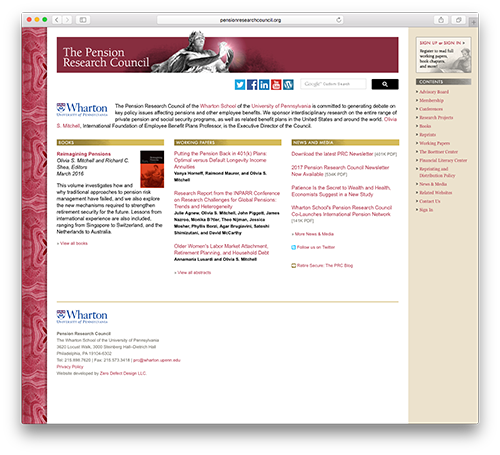 The Pension Research Council
The Pension Research Council of the Wharton School of the University of Pennsylvania is committed to generating debate on key policy issues affecting pensions and other employee benefits. We sponsor interdisciplinary research on the entire range of private pension and social security programs, as well as related benefit plans in the United States and around the world. Olivia S. Mitchell, International Foundation of Employee Benefit Plans Professor, is the Executive Director of the Council.
---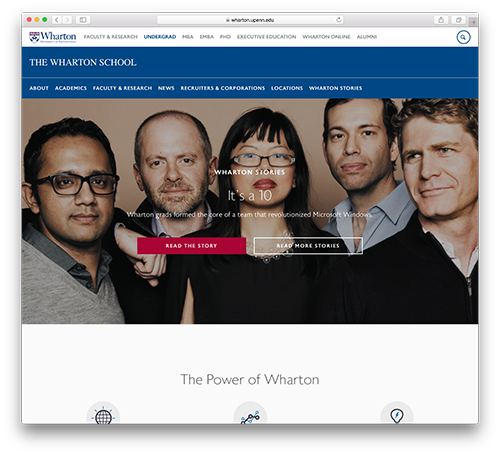 The Wharton School
In 1881, American entrepreneur and industrialist Joseph Wharton established the world's first collegiate school of business at the University of Pennsylvania.
Wharton's pioneering vision was to produce graduates who would become "pillars of the state, whether in private or in public life." The Wharton School maintains a long tradition of educating visionary business leaders in academia, business, government, and not-for-profit organizations.
Today, Wharton has expanded the scope of this vision to become the most comprehensive source of business knowledge in the world — with over 225 faculty members, 95,000 alumni, 5,000 students across 10 academic departments, 20 research centers, and more than 9,000 executive education participants annually.
---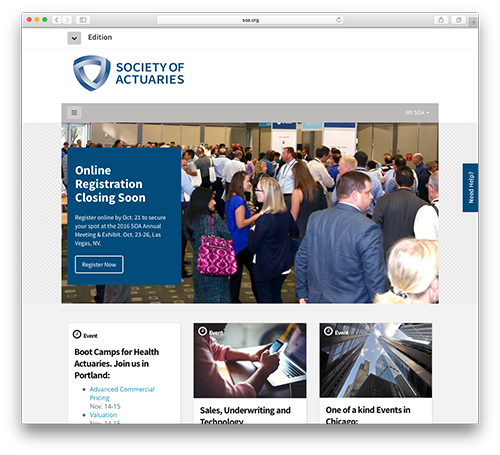 Society of Actuaries
With roots dating back to 1889, the Society of Actuaries (SOA) is the world's largest actuarial professional organization with more than 27,000 actuaries as members. Through research and education, the SOA's mission is to advance actuarial knowledge and to enhance the ability of actuaries to provide expert advice and relevant solutions for financial, business and societal challenges. The SOA's vision is for actuaries to be leaders in the measurement and management of risk.
---
Throughout this website, Austin First Financial has provided links to various other websites. While Austin First Financial believes this information to be current and valuable to its clients, Austin First Financial provides these links on a strictly informational basis only and cannot be held liable for the accuracy, time-sensitive nature, or viability of any information shown on these sites.